News 2010
Jan Jarczyk Grammy Award Nominee

| Dec 07, 2010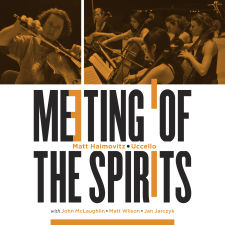 Jan Jarczyk is a member of a music recording assemble who created Best Classical Crossover Album nominated to the 2011 Grammy Award. Album is produced by Oxingale Records.
A title of the album is Meeting Of The Spirits and is recorded by Matt Haimovitz (Amaryllis Jarczyk, Jan Jarczyk, John McLaughlin, Dominic
Painchaud, Leanna Rutt & Matt Wilson)
Click here to read the announcement.

And here you can read about album and artists and can listen to tracks at the Oxingale Records website.

An excerpt from the site:
"Renowned for his fascinating and far-reaching musical adventures and fearlessly virtuosic performances -- whether in a club or on one of the world's great stages -- cellist Matt Haimovitz harnesses his eight-piece ensemble of "cello warriors" (San Jose Mercury News), Uccello, for a new program of jazz classics in original arrangements by Rome Prize-winning composer David Sanford. The cellos wail, slide, and swing in an all-new big band sound - joined by dazzling musical contributions from guitar legend John McLaughlin, percussionist Matt Wilson and Jan Jarczyck on keyboards - in works by Ornette Coleman, Charles Mingus, John McLaughlin (Mahavishnu), Miles Davis, Billy Strayhorn and other jazz greats."

To explore the catalogue, use the menu above or click
here
.
Jan Jarczyk: piano
Concert in Vancouver
October 23, 2010